Baxter Announces Renewed Commitment to Bariatric Surgery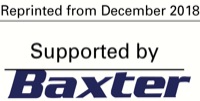 Obesity is a global problem affecting 604 million adults worldwide.1 In the United States, obesity has a prevalence of 40%, and the rate continues to increase each year.2 As a result, there has been a 5% increase in the number of bariatric procedures,3 and bariatric surgeons are being faced with performing higher volumes of these surgeries and ensuring that they are effective. Recent data show that, among the available bariatric procedures, 60% are performed using sleeve gastrectomy.3 Surgeons continue to improve the efficiency of sleeve gastrectomy by using advanced sealing and staple line reinforcement. With products such as PERI-STRIPS DRY Staple Line Reinforcement with VERITAS collagen matrix and FLOSEAL Hemostatic Matrix, Baxter continues to support surgical innovation to address the global problem of obesity. The company also recognizes the value of partnering with medical societies, such as the American Society for Metabolic and Bariatric Surgery (ASMBS), to meet the challenges of this epidemic.
Recently, Wil Boren, president of Baxter's Advanced Surgery business, met with leaders of ASMBS to reinforce the company's long-term commitment to partnering with surgeons and hospitals to improve patient outcomes and reduce total cost of care. Mr. Boren noted that Baxter is recognized as "one of the most trusted companies in health care," with over 60 million patients treated annually using Baxter products. Many hospitals and health care professionals rely on Baxter products, including the company's hemostats, sealants, and staple line reinforcements that enhance many life-changing surgeries. Recently, the company has renewed its focus on the impact that its products have on advancements in surgical technique and the long-term impact of improved hemostasis on patients' ability to heal from surgery. Under the company's new leadership, improving patient outcomes is a core focus. For example, PSD-V was associated with decreased sleeve gastrectomy leak rates to less than 0.5% when compared to no buttressing, over-sewing, GORE, and COVIDIEN buttresses in a multicenter retrospective study.4
Mr. Boren noted that as a market leader in advanced hemostats and sealants, Baxter is addressing the critical surgical needs of the 21st century. With nearly 200 clinical studies on its FLOSEAL Hemostatic Matrix and well over 2,000 clinical studies on its fibrin sealant, TIssEEL, Baxter stands out from other surgical device manufacturers for its investment in understanding the outcomes and costs associated with better hemostasis and sealing.
In addition to investing in clinical research, Baxter is committed to improving the delivery of care in hospitals and efficiencies of operating rooms (ORs) across the country through Vital Edge, a data-driven, evidence-based hemostasis optimization initiative that leverages health economics data. "Vital Edge is an educational program launched in late 2017 that, among other things, allows us to look at the impact that the effective and efficient use of hemostats and sealants have on cost avoidance, OR time reduction, and reduced blood transfusions," Mr. Boren said. As previous studies show, optimizing the use of hemostat and sealant agents can result in significant savings. For example, a hospital performing 600 cardiovascular surgeries per year could save over $5 million with better patient outcomes when using FLOSEAL versus lower-cost hemostats based on a cost consequence model applied to the findings in a randomized prospective trial.5,6
Mr. Boren noted that Baxter is also actively engaged in health care professional education. "Last year we trained 5,000 surgeons on the safe and effective use of Baxter's hemostats and sealants, and this year we're on track to train 20,000 surgeons," Mr. Boren said, adding that the company plans to continue offering and expanding on its web-based education and collaboration platform, Hemovision (Hemovisionsurgery.com), for bariatric surgeons.
For Baxter, innovation is a crucial component to its Advanced Surgery platform. In the coming months, Baxter will be introducing a first-of-its-kind validated intraoperative bleeding scale that fulfills the FDA criteria for a bleeding scale to include intra- and inter-observer reliability, content and construct validity, clarity, relevance, complete response range, and the ability to detect change. Based on visual assessment of blood flow, the VIBe SCALE, can help surgeons and OR staff to more consistently identify and address bleeding quickly with the best hemostat for that particular bleed.
Baxter recognizes that partnerships are critical for the advancement of surgical techniques and improvement of health care delivery across the United States and around the globe. Baxter remains committed to working collaboratively with ASMBS to advance the art of healing through innovative products and programs that can address the global problem of obesity management. At Baxter, investment in partnerships is one of the key ways that the organization is advancing surgical care across a number of specialties and improving patient outcomes.
Contact your Baxter representative to see how you can partner with Baxter.
References
GBD 2015 Obesity Collaborators, Afshin A, Forouzanfar MH, et al. Health effects of overweight and obesity in 195 countries over 25 years. N Engl J Med. 2017;377(1):13-27.
Hales CM, Carroll MD, Fryar CG, et al. Prevalence of obesity among adults and youth: United States, 2015-2016. NCHS Data Brief. 2017;(288):1-8.
American Society for Metabolic and Bariatric Surgery. Estimate of bariatric surgery numbers, 2011-2017. https://asmbs.org/ resources/ estimate-of-bariatric-surgery-numbers. June 2018. Accessed September 7, 2018.
D'Ugo S, Gentileschi P, Benavoli D, et al. Comparative use of different techniques for leak and bleeding prevention during laparoscopic sleeve gastrectomy: a multicenter study. Surg Obes Relat Dis. 2014;10(3):450-454.
Tackett SM, Sugarman R, Kreuwel HT, et al. Hospital economic impact from hemostatic matrix usage in cardiac surgery. J Med Econ. 2014;17(9):670-676.
Nasso G, Piancone F, Bonifazi R, et al. Prospective, randomized clinical trial of the FloSeal Matrix Sealant in cardiac surgery. Ann Thorac Surg. 2009;88(5):1520-1526.
---
Brief Summary: Consult the package insert for complete prescribing information.
INDICATIONS AND USAGE
Hemostasis: TIssEEL is a fibrin sealant indicated for use as an adjunct to hemostasis in adult and pediatric patients (>1 month of age) undergoing surgery when control of bleeding by conventional surgical techniques (such as suture, ligature, and cautery) is ineffective or impractical. TIssEEL is effective in heparinized patients.
Sealing: TIssEEL is a fibrin sealant indicated as an adjunct to standard surgical techniques (such as suture and ligature) to prevent leakage from colonic anastomoses following the reversal of temporary colostomies.
CONTRAINDICATIONS
Intravascular Application
Do not inject TIssEEL directly into the circulatory system or into highly vascularized tissue. Intravascular application of TIssEEL can lead to intravascular coagulation, can result in life-threatening thromboembolic events, and can increase the likelihood and severity of acute hypersensitivity reactions in susceptible patients (see Warnings and Precautions (5.3) and Adverse Reactions (6.2)).
Aprotinin Hypersensitivity
Do not use TIssEEL in individuals with a known hypersensitivity to aprotinin (see Warnings and Precautions (5.1) and Adverse Reactions (6)).
Severe or Brisk Bleeding
Do not use TIssEEL for treatment of severe or brisk arterial or venous bleeding. In these situations, TIssEEL will be washed away in the flow of blood before hemostasis can be attained.
Application below minimum recommended distance from target site
Do not spray TIssEEL where the minimum recommended distance from the applicator tip to the target site cannot be assured.
WARNINGS AND PRECAUTIONS
Hypersensitivity Reactions
Hypersensitivity reactions including allergic/and anaphylactoid reactions can occur with the use of TIssEEL. Cases have been reported in post marketing experience with Baxter's fibrin sealant (see Adverse Reactions (6.2)).In specific cases, these reactions have progressed to severe anaphylaxis. Such reactions may especially be seen if TIssEEL is applied repeatedly over time or in the same setting, or if systemic aprotinin has been administered previously. Even if the first treatment was well tolerated, this may not exclude the occurrence of an allergic reaction after a subsequent administration of TIssEEL or systemic aprotinin. Observed symptoms of allergic anaphylactic reactions to TIssEEL have included: bradycardia, tachycardia, hypotension, flushing, bronchospasm, wheezing, dyspnea, nausea, urticaria, angioedema, pruritus, erythema and paresthesia. Such reactions can also occur in patients receiving TIssEEL for the first time.
Aprotinin is included in TIssEEL for its antifibrinolytic properties. Aprotinin, a protein, is known to be associated with anaphylactic reactions. Even in the case of strict local application of aprotinin, there is a risk of anaphylactic reactions to aprotinin, particularly in the case of previous exposure (see Contraindications (4.2)). TIssEEL does not contain any substances of bovine origin.
Discontinue administration of TIssEEL in the event of hypersensitivity reactions. Mild reactions can be managed with antihistamines. Severe hypotensive reactions require immediate intervention using current principles of shock therapy. Remove remaining product from the application site.
Application Precautions
Any application of pressurized air or gas is associated with a potential risk of air or gas embolism, tissue rupture, or gas entrapment with compression, which may be life a threatening or fatal.
Life threatening/fatal air or gas embolism has occurred when Fibrin Sealants were administered using pressurized gas with open regulator spray devices. This can occur if a spray device is used at higher than recommended pressures and in closer than recommended proximity to the tissue surface. The solubility of compressed CO2 is greater than either compressed N2 or Air thereby reducing the potential effect of embolization.
Regardless of the type of gas used, to reduce the incidence of embolization, spray TIssEEL using only the recommended regulator, set within the recommended pressure range, with the appropriate applicator positioned at the recommended distance in Table 4 of the full Prescribing Information.
Monitor changes in blood pressure, pulse, oxygen saturation and end tidal CO2 due to the possibility of air or gas embolism.
Use only spray catheters or applicators approved for use with TIssEEL.
TIssEEL must not be sprayed in enclosed body areas using the EASYSPRAY device and must be sprayed onto only visible application sites.
For Open Surgical Procedures, use the EASYSPRAY Pressure Regulator connected to medical grade CO2, compressed Air or a Nitrogen compressed gas source along with the TIssEEL/ARTIss spray set, (see Method of Application (2.3)).
For Minimally Invasive Surgery Procedures in enclosed body areas use of the DUPLOSPRAY MIS device connected only to compressed CO2, along with DUPLOSPRAY applicator is recommended. The DUPLOSPRAY MIS device is specifically designed to prevent over pressurization of the body cavity through a dedicated vent line to reduce the risk of gas embolization, (see Method of Application (2.3)).
The sealer protein and thrombin solutions are denatured by alcohol, iodine or heavy metal ions. If any of these substances have been used to clean the wound area, the area must be thoroughly rinsed before the application of TIssEEL.
Apply TIssEEL as a thin layer as excess clot thickness can negatively interfere with wound healing.
Use in Surgery
To minimize the risk of intravascular application, exercise caution when using TIssEEL in surgery (see Contraindications (4.1) and Adverse Reactions (6.2)).
Use in Neurosurgical Procedures
The safety and effectiveness of TIssEEL used alone or in combination with biocompatible carriers in neurosurgical procedures or other surgeries involving confined spaces have not been evaluated, and its use in this setting is not approved by FDA (see Adverse Reactions (6.2) and Drug Interactions (7)).
Infection Risk from Human Plasma
TIssEEL is made from human plasma. Because this product is made from human blood, it may carry a risk of transmitting infectious agents, e.g., viruses, the variant Creutzfeldt-Jakob disease (vCJD) agent and, theoretically the Creutzfeldt-Jakob disease (CJD) agent.
ADVERSE REACTIONS
Clinical Trials Experience
Because clinical trials are conducted under widely varying conditions, adverse reaction rates observed in the clinical trials of a drug cannot be directly compared to rates in the clinical trials of another drug and may not reflect the rates observed in practice.
Increased D-Dimer levels have been observed during a clinical study in cardiovascular surgery (see Clinical Studies (14)), but did not exceed values reported in the literature occurring after this type of surgery. Postoperatively increased D-Dimers can result at least partly from the degradation of Fibrin Sealant.
There were no reports of serious, associated adverse reactions reported above 1% in clinical studies.
Post-Marketing Experience
Because adverse reactions are reported voluntarily and the population is of uncertain size, it is not always possible to reliably estimate the frequency of these reactions.
The following adverse reactions have been reported in the post-marketing experience.
Immune System Disorders: Hypersensitivity, including anaphylactic reaction and anaphylactic shock. Anaphylactic reactions and anaphylactic shock have included fatal outcomes.
Vascular Disorders: Hypotension, flushing, embolism, including cerebral artery embolism, cerebral infarction*, air embolism**
Skin and subcutaneous Tissue Disorders: Angioedema, erythema, impaired healing, pruritus, urticaria
Cardiac Disorders: Bradycardia, tachycardia
Respiratory Disorders: Bronchospasm, dyspnea, wheezing
Gastrointestinal Disorders: Nausea
Nervous System Disorders: Paresthesia
*As a result of intravascular application into the superior petrosal sinus
**As with other fibrin sealants life-threatening/fatal air or gas embolism when using devices with pressurized air or gas occurred; this event appears to be related to an inappropriate use of the spray device (e.g. at higher than recommended pressure and in close proximity to the tissue surface),
Class effect: Manifestations of hypersensitivity or allergic reactions associated with the class of fibrin sealant/hemostatic products include: application site irritation, chest discomfort, chills, headache, lethargy, restlessness and vomiting.
There have been reports of serious adverse events such as paralysis and other compressive complications possibly related to the use of fibrin sealants in combination with resorbable hemostatic
USE IN SPECIFIC POPULATIONS
Pregnancy Category C
Animal reproduction studies have not been conducted with TIssEEL. It is also not known whether TIssEEL can cause fetal harm when administered to a pregnant woman or can affect reproduction capacity. Some viruses, such as parvovirus B19, are particularly difficult to remove or inactivate at this time. Parvovirus B19 most seriously affects pregnant women (fetal infection). TIssEEL should be given to a pregnant woman only if clearly needed.
Nursing Mothers
It is not known whether this drug is excreted in human milk. Because many drugs are excreted in human milk, caution should be exercised when TIssEEL is administered to nursing mothers.
Pediatric Use
Limited clinical study data are available with regard to the use of TIssEEL in children. Of 365 patients undergoing repeated cardiac surgery or emergency resternotomy in a clinical trial of TIssEEL, 27 pediatric patients aged 16 years or younger were treated with TIssEEL. Of these, 2 patients were less than 6 months, 2 patients were between the ages of 6 months and 2 years, 15 patients were between 3-11 years of age, and 8 patients were between 12-16 years of age. There were no differences in safety observed between these subjects and the overall population. (see Clinical Studies (14)).
Geriatric Use
Clinical studies included 218 patients aged 65 years of age or older treated with TIssEEL (159 undergoing cardiac surgery and 59 undergoing vascular surgery) (see Clinical Studies (14)). No overall differences in safety or effectiveness were observed between these subjects and younger subjects, and other reported clinical experience has not identified differences in responses between the elderly and younger patients, but greater sensitivity of some older individuals cannot be ruled out.
PATIENT COUNSELING INFORMATION
Discuss the risks and benefits of this product with the patient since it is made from human plasma.
Instruct patients to consult their physician if symptoms of B19 virus infection appear (fever, drowsiness, chills and runny nose) followed about two weeks later by a rash and joint pain (see Use in Specific Populations (8.1)).
PERI-STRIPS DRY with VERITAS Collagen Matrix Staple Line Reinforcement
Indications for Use PSDV Reinforcement is intended for use as a prosthesis for the surgical repair of soft tissue deficiencies using surgical staplers when staple line reinforcement is needed.
(Circular reinforcement only) PSDV reinforcement can be used for reinforcement of staple lines during gastric, bariatric, and small bowel procedures.
(Linear reinforcement only) PSDV Reinforcement can be used for reinforcement of staple lines during lung and bronchus resections and during bariatric surgical procedures, and during gastric, small bowel, mesentery, colon, and colorectal procedures.
IMPORTANT RISK INFORMATION
The use of PSDV Reinforcement is contraindicated in patients with known sensitivity to bovine or acrylic material. Rx Only. For safe and proper use of this device, refer to the Instructions for Use.
FLOSEAL Hemostatic Matrix Indication
FLOSEAL is indicated in surgical procedures (other than ophthalmic) as an adjunct to hemostasis when control of bleeding by ligature or conventional procedures is ineffective or impractical.
Important Risk Information for FLOSEAL
Do not inject or compress FLOSEAL into blood vessels. Do not apply FLOSEAL in the absence of active blood flow, e.g., while the vessel is clamped or bypassed, as extensive intravascular clotting and even death may result.
Do not use FLOSEAL in patients with known allergies to materials of bovine origin.
Do not use FLOSEAL in the closure of skin incisions because it may interfere with the healing of the skin edges.
FLOSEAL contains Thrombin made from human plasma. It may carry a risk of transmitting infectious agents, e.g., viruses, and theoretically, the Creutzfeldt-Jakob disease (CJD) agent.
FLOSEAL is not intended as a substitute for meticulous surgical technique and the proper application of ligatures or other conventional procedures for hemostasis
Excess FLOSEAL (material not incorporated in the hemostatic clot) should always be removed by gentle irrigation from the site of application.
FLOSEAL swells by approximately 10% to 20% after product is applied. Maximum swell volume is achieved within about 10 minutes.
The safety and effectiveness of FLOSEAL has not been established in children under 2 years of age and pregnant women.
Do not use air to remove residual FLOSEAL from Applicator tip.
Do not use FLOSEAL on bone surfaces where adhesives, such as methylmethacrylate or other acrylic adhesives, will be required to attach a prosthetic device.
The Applicator tips should not be cut.
Rx Only. For safe and proper use of this device, refer to the Instructions for Use.
All infections thought by a physician possibly to have been transmitted by this product should be reported by the physician or other healthcare provider to Baxter Healthcare Corporation at 1-888-229-0001.
Baxter, Floseal, Hemovision, Tisseel, Veritas, Vibe Scale and Vital Edge are trademarks of Baxter In
USMP/90/18-0048 10/18